Browsing through your Google AdWords account, you notice some of your keywords are not showing due to "low search volume". Hovering your mouse over the speech bubble, the ad diagnostic tool pops up: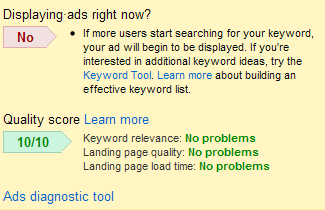 According to Google AdWords Help, your keyword is not showing because not enough people are searching for your keyword.
"Low search volume" keywords are keywords associated with very little search traffic on Google properties. In which case, we suspend your keyword. This state is only temporary, and these keywords will be reactivated if we find that they could start delivering traffic.
So just how much search traffic is "very little search traffic"?
To find out, I decided to count every "low search volume" keyword in an AdWords account over a 3 month period. Of the 2,823 keywords that received at least one impression, 804 keywords (28.5%) were "low search volume". That's over a quarter of keywords.
Although most of these "low search volume" keywords were in fact that, low search volume, some had a relatively high number of searches: 108, 117, 126, 135, 156 and even 573 (see graph below). I'd hardly call 573 searches "low search volume".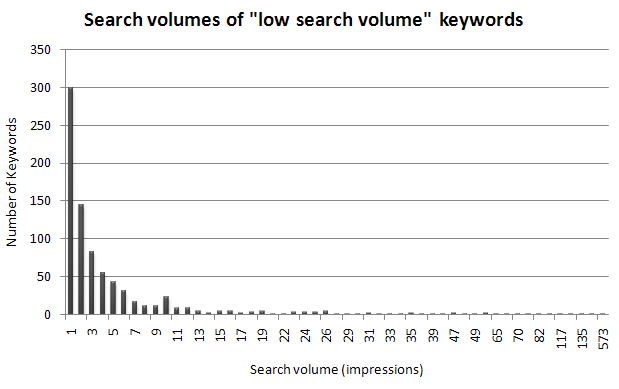 What's more, although "low search volume" keywords accounted for only 3.60% of total impressions, they generated a disproportionately high 5.33% of total clicks. Their CTR was 1.72%, compared to only 1.17% for normal search volume keywords, despite a similar average position of 2.63 and 2.70 respectively. That's a higher CTR for "low search volume keywords" by almost 50%.
5% doesn't sound like much. So is there any point having "low search volume" keywords in your AdWords account? Or long-tails at all for that matter?
Definitely. My advice is to ignore Google's "low search volume" advice and continue with your long-tail keyword strategy. Focusing on the long-tail will of course generate a large amount of keywords that will rarely be searched, if at all. But as I point out in 5 Benefits of Long-Tail Keywords, infrequently searched-for keywords generally have less competition, lower CPCs, higher CTRs and higher conversion rates than their short-tailed rivals. En masse, long-tail keywords can be extremely profitable.
Call me a cynic, but I think the whole point of the "low search volume" feature is a means to scare advertisers away from those cheaper, long-tail keywords, and towards more expensive, short-tails in a effort to maximise Google's revenue (a view shared by Eloi Casali in the comments section of PPCProz's low search volume post in June). I can't really see any practical use for the advertiser.